Glee Club… Musical Theater, Rock Band & More
Our students will develop their musical abilities to work in harmony with their classmates. No matter what your kid wants to do, he'll find a place in iSchool of Music & Art. Whether your kid wants to be part of the Glee Club, is a fan of musical theater or dreams about being in a band, they'll find a place to learn and perform with us!
iBand… an inspirational mixture of lessons & performing.
Ages 7–17. As the core of our collection of music lessons, iBand is your chance to develop musical skills and put them to use in a real-life ensemble! At the end of the semester, we'll pick a venue in NYC or Long Island, where you and your band will put on the performance of a lifetime with your fellow students.
Don't worry about finding band mates to fit your mold. Students are grouped by age, ability and musical style and all music is custom arranged to suit your skill level.
Each and every iBand is customized by considering age, skill level and style of interest. Rock, Jazz, pop, percussion ensemble, classical string quartet, piano trio and fusion… you name it, we have it! Join us for an exciting and original musical adventure: The Avengers!
Glee Club – Sing, Sing, Sing!
If your child enjoys high-energy, exciting singing in a group setting, this class is for them!  A Glee Club is a musical group or choir that performs a variety of songs from different genres. Students will learn how to sing and perform songs in varying voice parts. This class will allow students to learn essential performance techniques while singing music from a variety of genres.
They will perform at our "Big gig" accompanied by our professional live band!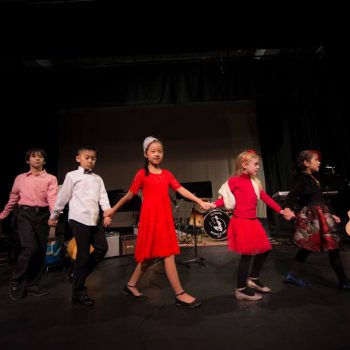 An exploration of musical theater where students will discover acting techniques, basic stage movements and the fundamentals of stage choreography.
Students will have an opportunity to showcase their acting and vocal skills in solo, duet, and small group settings while performing musical scenes anywhere from "Oklahoma" and "Mamma Mia," to "Dear Evan Hansen" and beyond. Age 8-15
I.S.O. – ISCHOOL STRING ORCHESTRA.
Ages 8-17. Care to feature as a soloist with an entire orchestra's accompaniment playing your favorite music? Join up and play in the I.S.O. – iSchool String Orchestra! Whether it's as a soloist or member of the ensemble, you will be part of a talented, like-minded group that desires to learn and enjoy music in a new way!
The string orchestra will play in all of iSchool's major productions such as the featured show this year, S.O.S, our annual China tour and the "Musiktage am Rhein" festival in Germany. 
The "i" in iSchool of Music & Art stands for INSPIRATION. Our students are educated through inspiration, demostration and performance to bring out.